Lesson Plans
Faculty from AICAD schools led hands-on design workshops for art educators at the annual NAEA Convention as part of the 2015 AICAD Live Learning Lab. Take these lesson plans from Maine College of Art (MECA) back to your classroom.
Mapping Our Designed Environment - Meredith Leoni, elementary school art educator and MECA alum, outlines a twenty minute warm-up activity which highlights the complexity of the world around us through an examination of the placement of everyday objects.
Build Your Own Paintbrush - Meredith Leoni, takes a frequently used art lesson and redesigns it to show how student interests and inquiry can shift a lesson from replication to invention.
From Air To Where - Shaun Aylward, MECA MAT alum, establishes an art and science investigation for kindergarteners to explore the winter ecology of moths and butterflies.
Street Art Graffiti Self-Portraits - Aimee Carmella, MECA MAT Alum, uses student interests to design a high school unit that focuses on how visual artists use images, symbols, and words to convey meaning.
---
ArtProf High School Art Lesson Plans
Art Prof Youtube channel: video critiques & tutorials
---
Search and download hundreds of lesson plans, explore online classes and events, and view videos featuring practical ideas for the classroom.
---
A high quality video series produced by PBS for the high school art classroom audience (students & teachers), featuring DIY tutorials from well known artists.
---
KQED Art School features a YouTube channel called Elements of Art - a series of videos clearly explaining the basic foundations of art.
---
Cooper Hewitt K-12 Design Outreach is a FREE program that brings Cooper Hewitt's celebrated design workshops to New York City schools.
Over 400 K-12 Lesson Plans Focused on Design
---
A UK-based organization that facilitates visual arts workshops and provides an online collection of teaching ideas and learning resources.
---
The ACE Mentor Program of America, Inc. (ACE) helps mentor high school students and inspires them to pursue careers in design and construction.
---
Edutopia is a comprehensive website and online community that aims to increases knowledge, sharing, and adoption of best practices in K-12 education. It emphasizes project-based learning as a core strategy.
The Big List of Educational Grants and Resources at Edutopia - get a roundup of educational grants, contests, awards, free toolkits, and classroom guides aimed at helping students, classrooms, schools, and communities.
---
Kadenze brings together educators, artists, and engineers from leading universities (including many AICAD faculty members) to provide world-class education in the fields of art and creative technology.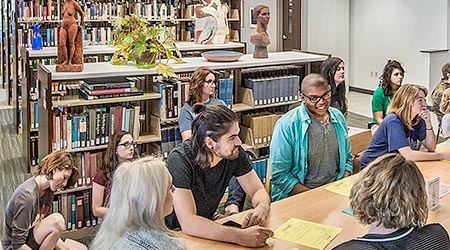 Image provided by Cleveland Institute of Art
Recommended Reading
BOOKS
Graphic Design Thinking: Beyond Brainstorming, published by Princeton Architectural Press and edited by Ellen Lupton, MICA faculty member, is an excellent introductory text with dozens of techniques and sample student work.
Exploring Materials: Creative Design for Everyday Objects, published by Princeton Architectural Press and written by MICA graduate Inna Alesina and Ellen Lupton, is an action-oriented, accessible guide to design thinking through physical materials like clay, paper, and fiber.
Starting Your Career as an Artist: A Guide To Launching a Creative Life, (Allworth Press/SVA), written by Angie Wojak, Director of SVA Career Development, and Stacy Miller, Ed. D., faculty at Parsons School of Design, is a comprehensive manual to guide aspiring artists on how to create a plan of action to advance their professional careers and build productive lives in the art world.
ARTICLES
Why Art Teachers Are The Most Important Teachers In The School, Posted on August 14, 2014 on TheVirtualInstuctor.com by Matt Fussell
Why The Arts Are As Important As Science or Math, The Huffington Post, Posted on February 19, 2016 by Dipin Damodharan
More Than Half of Art Teachers Consider Quitting As Subject Becomes 'Devalued', Helen Ward, Posted February 9, 2016 on TES