Heath Ryan Simpson | Art Book Technician
"Even the garbage excites me."
Heath Simpson talks about working at acclaimed Steidl Publishing

The first step is making yourself known. Standing out. Making the brazen ask.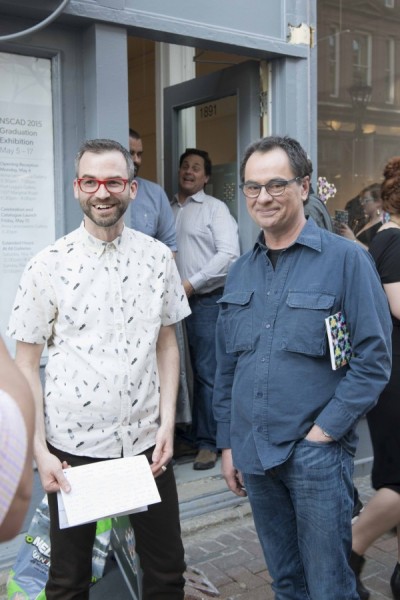 That's what Heath Simpson (NSCAD, BFA '13) did to get his dream job at Steidl, the German-based publishing house of art and photo books.
Simpson's adventure began last September. Gerhard Steidl was at NSCAD University in Halifax for the opening of legendary photographer Robert Frank's show Robert Frank: Books, Films, 1947-2014 at the Anna Leonowens Gallery. The night before the opening, NSCAD held a screening of the documentary How to make a book with Steidl followed by a Q and A session.
Having been an admirer and collector of Steidl volumes for many years, Simpson deliberated on what to ask the acclaimed publisher. The first questions that came to his mind were about printing details and strictly technical based, and these seemed too trite to ask. Eventually, he decided to inquire about practicums and whether or not the publishing house offered any. At the time he thought to himself, "I'd like to see where the books are made and if I could spend some time there learning what they (Steidl employees) do that would be great."
"The day I asked the question I had the internal dialogue 'ask the question', 'no you can't ask the question,' 'ask the question', 'no you can't ask the question,'" said Simpson, who majored in photography and fine arts at NSCAD. "Eventually I was like, 'I'm not leaving this auditorium until I ask this question!'"
So, in what Simpson describes as "very nervous German," he asked Steidl if practicums were something that the publishing house did. To which Steidl replied, "Oh, it's possible" and that was the end of it.
Later, Simpson emailed Steidl and introduced himself as "the guy with the red glasses," who had asked a question about practicums. Steidl asked to see Simpson's CV, or as the Germans call it, "Lebenslauf" (translates to life-run). One thing led to another and in January of this year Simpson flew to Göttingen, Germany for what Steidl called "a visit" and was offered a job.
Simpson came back to Canada, packed up his life, held a yard sale, put the rest in storage and flew back to Germany.
Now, he works in the photographic studio and the fine art printing department at Steidl. He photographs the books for the company website, showcasing the finer details, in hopes of enticing buyers to invest in one of the well-made volumes. He also works with the printing department to create "exhibition style stuff" for artists.
When asked about his new job, Simpson said, "Right now it's definitely stretching my skills sets. It's intense, the people he has working for him are amazingly talented and they come from all kinds of backgrounds. Every day is different."
"Sometimes you show up at work and Gerhard needs something done yesterday," he said. "Your drive kicks in, and it's like: 'This is what I'm committing to, it's going to get done and I'm going to do my best.'"
Simpson credits his ability to work well in the fast-paced publishing house to the skills he acquired while studying at NSCAD and working at The Prince George Hotel.
"You have to know how to multi-task and you need to know who to ask for what help and when," said Simpson.
Working for Steidl at the company he founded in 1972 has been eye-opening. Simpson admits that he has no idea how the man gets it all done.
"At work he's very focused. It's totally impressive. You've got four artists upstairs all working on different projects and he's overseeing that plus, what's probably happened last week and what's going to be happening in two months and you've got a fax from Karl Lagerfeld coming in," he said.
Simpson is a kid in a candy store. "The printer in me is enthralled by the paper, with stacks of things that have been printed and stacks of paper to be printed. The photographer in me is excited by whom we're printing for. And, literally the garbage excites me," he said.
He's looking forward to taking what he learns and applying it to his art practice. Although it may sound cliché, the lesson he's learned from this whirlwind experience is "to take chances" and he encourages others to do the same. "Although," he adds, "Sometimes a bit of luck plays its part!"
About the photographs:
Heath Simpson returned to NSCAD for the 2015 Graduation Ceremony to introduce his mentor Gerhard Steidl, recipient of a 2015 Honorary Degree from NSCAD. Photo by D'Arcy Way.
From the film How to Make a Book with Steidl, publisher Gerhard Steidl in the office of the publishing house he founded in 1972.