Brian Hahn | Motion Pictures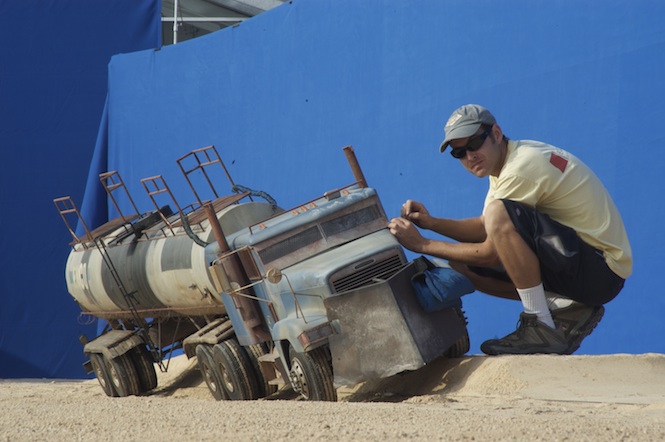 Since graduating from the Kansas City Art Institute in 1996 with a degree in photography, Brian Hahn has amassed an impressive portfolio. Hahn has worked as a special effects artist on movies ranging from "Armageddon" to "End of Days" to "Spiderman 2"to "Iron Man" to "The Boxtrolls."
Hahn never planned on working in motion pictures, but fate brought him to the West Coast, and persistence landed him a job.
"Initially, my goal was to be a commercial photographer," he said. "I worked as a photographer's assistant for a few years and was heading in that direction when my girlfriend at the time, now wife, got a job with Disney, and I followed her out to Los Angeles."
The technical and behind-the-scenes side of motion pictures always fascinated Hahn. He kept up with the industry in a magazine called "Cinefex," which detailed everything that went into making special effects for films.
"Once I landed in Los Angeles, I figured why not try and do that," he said. "I made as flashy of a resume as I could, sent it to every FX house in L.A., got a few interviews and three job offers. One of them even offered to pay me minimum wage! So that is where I started–Hunter Gratzner Industries. My first film was "Armageddon" in 1998, which involved a miniature Chrysler Building that was blown up."
In 2010, Hahn was contacted by a former colleague and "escaped L.A.," as he puts it, to join Laika as head of mechanical fabrication. Laiaka, a company located in Hillsboro, Ore., produces stop-motion animated films and is one of the few remaining companies that makes physical objects to photograph for motion pictures. It was here where he worked on "Paranorman" and "The Boxtrolls."
"Everything you see on the screen of every film was hand built, hand sculpted, hand painted, painstakingly created from scratch exclusively for a few seconds of screen time," Hahn said. "We strive to make every frame of every second of our movies into works of art."