Help With Getting in to the Best Art and Design Schools
The Association of Independent Colleges of Art & Design is a consortium of 42 top non-profit independent art and design schools. Though each AICAD school has slightly different admissions requirements and deadlines, all require an application, a portfolio and a written statement.
Application Deadlines
Some AICAD schools accept applications on a rolling basis, which means candidates may apply after the posted application deadline, but consideration is given based upon space availability.
Early Decision (also know as Early Action) deadlines are typically in early November with notification arriving sometime in December. Regular Decision deadlines are typically in late January or early February with admissions notification arriving in March.
Early Decision deadlines are binding, which means students must commit to attend should they gain admission. Students should only apply for this deadline if they are absolutely sure they want to enroll.
Important to note: A student's 4th year/senior year grades are not considered in the Early Decision application process, as academic transcripts will not yet reflect these grades in early November.
In some cases, Early Decision deadlines are slightly more competitive then Regular Decision deadlines. Depending on how many students choose this deadline in a given year, there may be a lower acceptance rate to ensure enough available seats for the Regular Decision applicants.
Portfolio Tips
One of the most important materials you will submit with your college application to an art and design school is the portfolio. Although there are many differences in the admissions requirements across the 42 AICAD schools, all view a strong portfolio as fundamental criteria for admission.
While it is true that each of the AICAD schools is looking for something different within the portfolio (and you should be sure to familiarize yourself with the admissions requirements of the schools you are applying to), there are some portfolio guidelines that are universal.
When in doubt, work from life. Set up a still life, draw your friends and family, draw the view outside of your bedroom window - the possibilities are endless.
Submit your favorite pieces, as they are likely your strongest pieces.
Do not include old work in the portfolio. Always select pieces that you have done within the last two years.
Your portfolio is only as good as your worst piece. Edit wisely.
Stay away from drawing/painting portraits of celebrities and other pop culture figures. This work can appear juvenile and unoriginal to admissions counselors who are looking for unique and creative candidates.
Pay attention to your composition. Are your pieces utilizing the space? If you are submitting several self-portraits with your face in center frame, you may want to vary your position and attempt a more dynamic composition.
Present your work in the best possible way. Even the best pieces will fail to impress if you are using poor lighting and an unsteady hand when photographing your work.
Get feedback on your portfolio well before college applications are due. Visit a National Portfolio Day, submit your work to the AICAD Portfolio Review Portal and get feedback from your art instructors.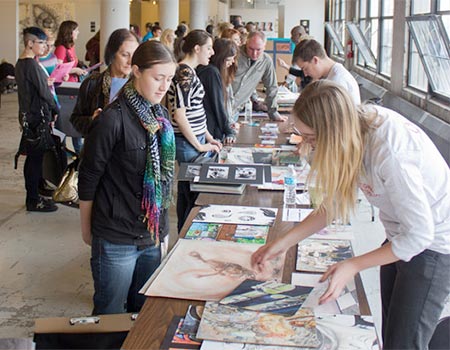 Milwaukee Institute of Art & Design
NATIONAL PORTFOLIO DAY EVENTS SCHEDULE
Meet with AICAD school admissions counselors and alumni at a National Portfolio Day near you. Events are free and held in locations across the country throughout the fall. Students get valuable in-person feedback on their artwork and make connections with admissions staff. No registration is necessary.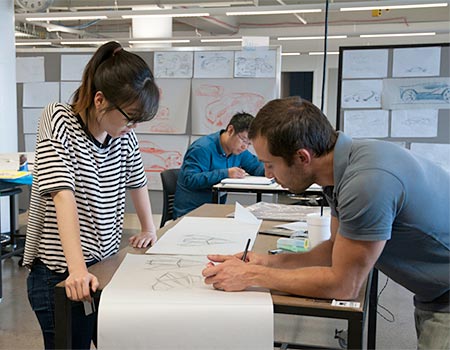 College for Creative Studies
AICAD PORTFOLIO REVIEW PORTAL
We invite you to upload your artwork to receive feedback from admissions counselors at 35 AICAD schools on the AICAD Portfolio Review Portal.This Portal provides a special opportunity for informal advisement on developing your portfolio. The Portal is open to all students from 9th-12th grade as well as college students interested in transferring.
Currently the AICAD Portal does not offer reviews for graduate Programs. Students interested in exploring graduate level programs at AICAD schools are encouraged to attend a Graduate Portfolio Day.